How I've have helped my past clients
The later landing page doubles the conversion rate.
Reasons why:
Added a top header with some sale information.
Added a logo and a call to action below it, it is a common mental model and pages that lack it seem suspicious.
Made the main heading much smaller but still readable on mobile devices
Added a short and concise subheading, with reviews and a call to action that feature a discount.
Added a related image with a customer testimonial
The new page is much easier to scan, features sale elements, and has a clear call to action that makes it easier for the user to navigate/decide.
Do you want to optimize your website pages? Sign up for a free CRO website audit with me here.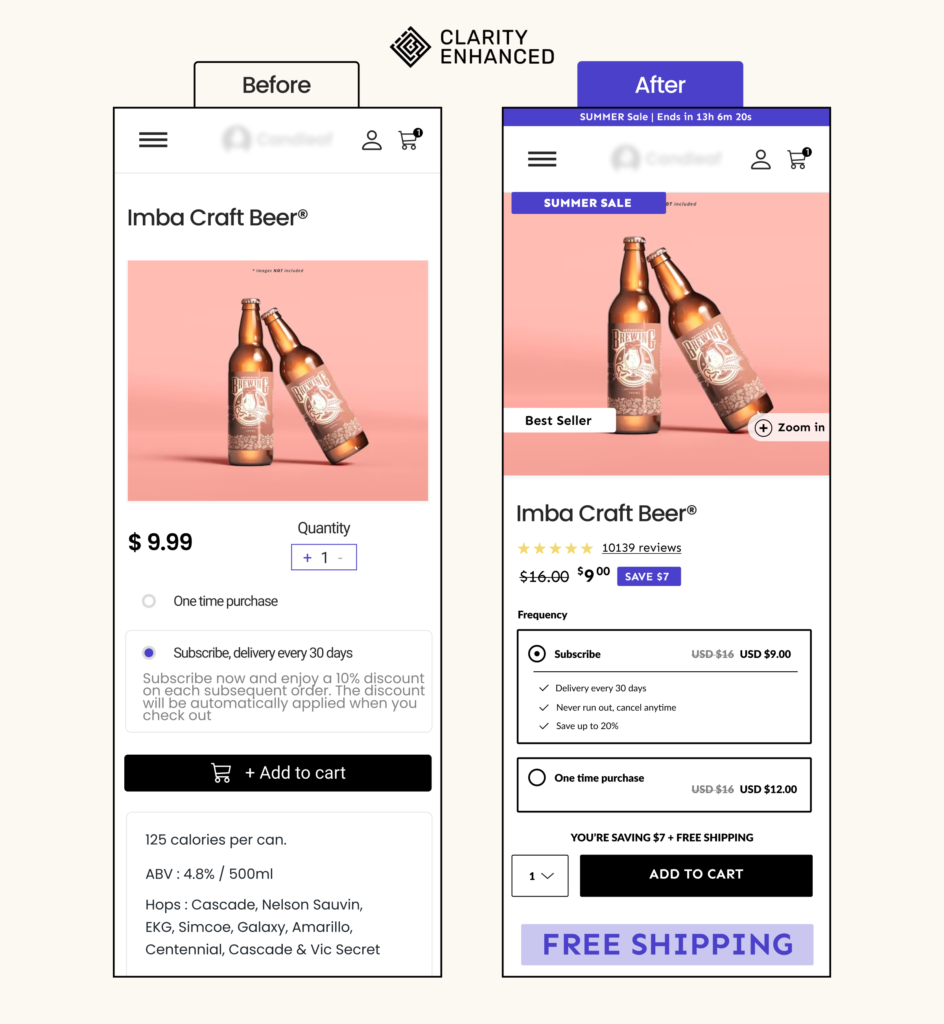 40% increased conversion rate. The reasons are below:
Added a top banner. It adds contrast, attracts attention, and features the sale that will end
Moved the product image just below the navbar. The product title is now below the image.
On the image, we've added another element that attracts the eye featuring the sale, and few other elements .
The title is the biggest typographic element that attracts the eye and explains what the product is all about.
Added the stars and reviews widget that scrolls the page to the reviews.
Discount pill
Strong contrast for the subscribe / one type purchase component
Quantity change next to the CTA
Big free shipping component
Free CRO website video audit, click here.
Why does the design to the right bring in more revenue? Because it displays the item as scarce, highlighting that it is a best seller during the spring sale and that the discount is 40%. It allows customers to purchase two items directly from the page with additional discounts. It also displays the 60-Day Money Back guarantee as most good advertising does.
DNSFilter is the world's fastest DNS based threat protection and content filtering service, powered by artificial intelligence.
DNSFilter had underperforming Unbounce landing pages. Their marketing team wanted to align these with their brand's design guidelines in order to increase conversions and improve customer loyalty.
After diagnosing the problems we had to take the content out of DNSFilter's old landing pages and redesign it following their brand guidelines. We ended up with a new landing page that raised the conversion rate from 2.36% to 23.44%.
Filip created a beautiful landing page for us that increased our conversion rates more than by more than 1000%
Tutor Doctor franchises offer in-home, one-on-one tutoring for students from kindergarten through college. The Ontario-based company was founded in 2000 and began franchising in 2003.
Tutor Doctor needed a landing page for their new marketing campaign. The marketing team wasn't satisfied with their old landing pages. One of the reasons was their overly colorful branding. The users were being distracted from the important elements on the page and the conversion rates were low.
After analyzing Tutor Doctor's website and old landing pages we came to the conclusion that their branding looks like it's aimed at children, and not for parents and tutors. It was too colorful, intense, and distracting. 
Our primary hypothesis was to use the same branding guidelines but limit the colors and drop some of the copy. The goal was to make the page more legible. We made the company's awards stand out in order to increase trust. 
"Filip excels not only in his creative design but he is unafraid to provide advice regarding potential blind spots. I highly recommend Filip for anyone wanting to build a landing page."
USBFactory is a Switzerland-based custom USB manufacturer that was established in 2008. 
USBFactory went through a brand redesign across their corporate website. Since their landing pages were built on Unbounce, they kept their old design. The marketing department wanted both to align the landing pages with the new brand guidelines and to test a hypothesis that having a single field form above the fold would increase conversion rates.
After analyzing their old landing page, it was obvious that the design was outdated, but most importantly, not aligned with their website and brand.
After the implementation was over, we tested the page on both mobile and desktop. We then started sending paid traffic to the page and the conversion rates doubled. Their new landing page has 12% conversion rate.
Whaou! Working with Filip is just GREAT! Everything is easy and simple. Thanks a lot for your great job, I'll come back to order more pages soon!
Jeff Clark is the editor of several investment advisories that focus on profiting from options in any market environment.
The traffic of this campaign came from YouTube ads. We needed a landing page that would quickly capture the prospect's email address after they're done watching a video where Jeff Clark talks about trading strategies. 
Because most of the traffic came from YouTube, we decided that the best approach was a short landing page that allows the users to take action as fast as possible.
After watching the YouTube video, most of our users were already heated up and ready to convert. Our primary landing page was converting at a good 40.34%. We decided to split test that variant against the same variant with different call to action colors.
Turns out a variant with an orange call to action button converts at 61.23% which blew our minds!
Schedule Your 30-Minute Session Today
drop us a line and let's talk!